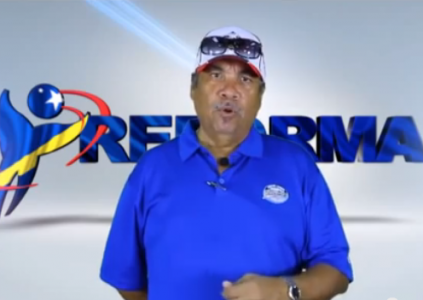 There are Indications that Helmin Wiels was misled by his own party members! There was a proposal from a group of "investors" interested in acquiring property and obtaining a concession in the Curaçao Sea Port, managed by Curaçao Port Authorities (CPA). They wanted to build a new container terminal. Somehow they had Wiels believe that it was a legitimate group of investors, willing to invest millions in the Island' Economy! According to reliable sources the group was headed by a notorious Narco Millionaire and Gang leader, under control of DEA!
Wiels always believed that Schottegat (St. Ana Bay), a natural Sea Port, was a gift of GOD and belonged exclusively to the people of Curaçao! When the existing concession with Curaçao Port Services (CPS), a company headed by F.d.c.G., ended in 2011, Wiels insisted that never again, any company would receive an exclusive concession rights to operate a container terminal in Curaçao' Sea Port! Wiels wanted a Open Sea Port, were any company with knowhow, experience and MONEY, could invest and operate a Container terminal.However things went the wrong way, when bribe money started to flow!
According to Insiders government officials, including members of the government, were bribed by CPS owners! Former Minister of Justice Elmer Wilsoe, a very good friend with CPS managing director F.d.c.G., supported the concession extension for CPS all he way! And once more Wilsoe went his own way, against the will of his leader Helmin Wiels!
He supported and promoted the CPS extension and lobbied with other party members to support the deal with CPS. http://www.youtube.com/watch?v=a7pWir5TN8QAt the other hand corrupt DEA agents, convinced Drugs Smugglers that they should invest in their own terminal to avoid payments to CPS and F.d.c.G. However it was not easy. They needed to bribe many greedy officials and corrupt politicians, to get the required concession to build and operate a new Container terminal in Curaçao' Sea Port. Obviously DEA liked the idea to have an additional player in the Curaçao' Sea Port!
This would mean a great opportunity to expand their Drugs smuggling business and increase profits. With TWO terminal operators under control of DEA, sky would become the limit! It was a opportunity to control large shipments of Drugs to Main land USA and Europe.There was only one problem! Rich Gang leaders are not businessmen and definitely not your usual investors. They aren't smart people either! Whatever they want they PAY for it! And whoever gets paid has to deliver, no matter what! Simple like that! And they usually pay large amounts of money to get what they want.
Very tempting for corrupt officials and greedy politicians, the temptation is almost irresistible! It was easy money and fitted exactly in Helmin Wiels views and intentions in regards to the Port. No more monopoly in Curaçao' Seaport. Consequently a deal was made! No less than 1.5 million dollars changed hands and landed on several accounts in the US! The money trail was expertly wiped out by corrupt DEA agents, who gladly endorsed the deal. The ties between local politics and the international criminal underworld was set! https://www.youtube.com/watch?v=tOc7TtdM67o
While Wiels continued to make enemies at home and abroad, denouncing everything from local corruption to the presence of the US Military installation, which he believed was used to control, not eliminate, the flow of drugs north. Wiels didn't care about any deal! He talked openly about corruption and the importance of autonomy. He denounced Dutch Rulers involvement with US military commanders to spy on neighboring countries and organizing covert operations! Wiels was not afraid to throw barbs at his fellow politicians either, speaking out about alleged corruption and ties to the criminal underworld. https://www.youtube.com/watch?v=3MKeqGrMbVI
With his, big mouth talk, Wiels alienated many supporters and won the October 19th. 2012 elections by a fraction of votes (1.265) over former coalition partner Gerrit Schotte (MFK). As a matter of fact the Coalition formed by MFK/PS/MAN obtained 12 of the 21 seats and could have regained power immediately. A letter of intent was signed between Schotte (MFK), Wiels (PS) and Charles Cooper (MAN). Everything seemed OK and the same "NO" coalition would regain power of government. But then something weird happened.
E.T., a CIA operative himself, knew that a deal was made! He called a meeting with Helmin Wiels, right after the "letter of Intent" between Wiels, Schotte and Cooper was signed on Wednesday October 24th. 2012! The meeting was held at the Central Bank Headquarters! Informants noted presence of several local businessmen and influent politicians, among others, F.d.c.G (CPS) J.P. (Casino Boss under control of DAE) E.G. (Banker under control of E.T.) D.D. (Political lobbyist and AIVD informant) G.E. (Philanthropist under control of AIVD), former minister of justice E.W. and Helmin Wiels. The later arrived from the back door and used a service lift to E.T's Penthouse office!
There are no reports whatsoever on what was discussed during that meeting. But since that day Helmin Wiels was another person. His politics went from being a Socialist Revolutionary to become a Hardline Conservative! The same day he started a personal attack against his former coalition partner Gerrit Schotte, calling him Psychopath! This was the main reason further negotiations between the two party's stranded! https://www.youtube.com/watch?v=5Dm9b84-aqQ
Wiels turned around, to changed his actions and strategy, 180 degrees. This was a complete different Helmin Wiels than before the elections! All of a sudden Wiels became part of the Black Jet Set, he hated so much and always criticized! He went on to surprise everybody by forming a new coalition with his former enemies Alex Rosaria and Eugene Cleopha (Pais party) and Glenn Sulvaran, who left his Party (PAR) with their seat to become an independent senator, and a key player in the new government! Dutch Rulers and Washington finally where in control again! https://www.youtube.com/watch?v=jam5OLet1qA
https://www.youtube.com/watch?v=X6M_pTZXX_w. (TO BE CONTINUED)
Opinion by Jorge Sulbaran
Lees hier meer van Reforma en MFK politicus Jorge 'Palu Djo' Sulbaran