Simon Calder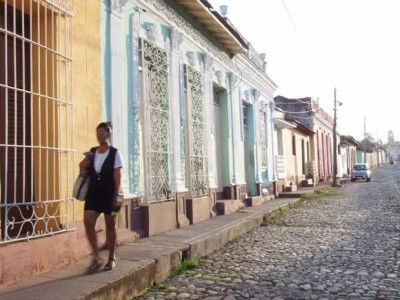 President Obama is the US leader who has kissed and made up with Cuba. The historic changes he announced at noon, Washington and Havana time, on 17 December will have profound beneficial effects on both countries. And when the dust has settled on the prisoner swaps and diplomatic rapprochement, some of the most significant effects will be on travel – transforming the tourist geography of the Caribbean.
How does tourism work in Cuba now?
Remarkably well, given the fact that it is an island that has undergone tremendous economic stress, and remains a one-party state with many challenges as a result of the US embargo.
Cuba opened up for mass tourism in the early 1990s, as the Soviet Union's collapse left the island almost destitute. Since then, it has been the preserve of Europeans, Latin Americans and Canadians.
Visitors are free to travel where they wish (except into the US base at Guantanamo Bay), and stay where they like – including, on a budget, in casas particulares (private houses). Red tape is minimal, comprising a tourist card that is issued with little formality.
Most travellers are on package holidays, under the auspices of the various agencies of the tourism ministry, Mintur. Thanks to internal and external competition, facilities and standards in the main resorts such as Varadero and Guardalavaca are steadily improving.
Yet the most rewarding holidays are generally those that begin in the fascinating capital – Havana is by far the largest and most interesting city in the Caribbean – then explore more widely. From the strange limestone landscapes in the west, you can travel via a succession of exquisite colonial towns and through rugged hills to the tranquil far east. Cuba is very safe, and very friendly. And compared with other Caribbean nations, prices are extremely competitive.
But you don't meet many Americans there? No, even though it is the biggest and most beautiful island in the Caribbean, and the closest to the US – just 90 miles separates the north coast from Key West in Florida. In the 1950s it was hugely popular with Americans, but when the economic embargo began in 1960, tourism was an immediate casualty.
For half a century, hundreds of million Americans who wanted a tropical island holiday have flown over or around Cuba, forbidden by the Trading with the Enemy Act from taking vacations in Castro's republic.
Only a few categories of US citizens have been allowed to travel to Cuba, such as those with family there, plus journalists and health workers. Some tens of thousands of Americans visit clandestinely, travelling via Mexico, the Bahamas or Canada. But they face problems with everything from spending (US credit cards cannot be used, and spending in dollars is subject to a special tax) to misadventure – since they are not officially in Cuba, life gets tricky if they are victims of crime or fall ill.
President Obama stopped well short of opening the floodgates
Yes, but he has extended the categories of people able legally to visit Cuba in such a way that almost any trip will qualify. A journey to the island is certainly an "educational activity", and it will provide "support for the Cuban people", two of the permitted motives. it is likely that travel agents will quickly put together packages that can be sold to any American. And the nonsense whereby US-owned online travel agents such as Expedia are obliged to pretend that Cuba does not exist (you'll search in vain for a London-Havana flight at expedia.co.uk) will end, aiding web bookings.
Will the travel industry – and the island – be able to cope with the surge in demand?
It depends on how many newly liberated US citizens decide to sign up, and what sort of vacations they demand. If it's a trickle of independent travellers, then it's easy. There are already dozens of charter flights each week between America and Cuba, mainly from Miami, catering for family visitors. And thanks to the widespread availability of private accommodation, there should be room for independent travellers. But if pressure builds for city breaks in Havana or beachside vacations at the island's resorts, then the shortcomings of the infrastructure will quickly become apparent. And then a bidding war begins for everything from sunbeds on the beach to landing slots at Havana's single-runway airport.
So should I get there quick?
For the past 20 years or so, I have repeated the mantra: to see this flawed yet uniquely appealing country, go now. While other islands became progressively Americanised, Cuba did not. The island's rich and multifaceted culture remained largely intact, and today the tradition of everyone congregating at the local casa de la trova for music and rum continues.
So why did I say it? Well, it appeared to me that Cuba's deep financial problems could deteriorate into something akin to economic surrender to the US. Thanks largely to tourism, the regime has weathered the storm and it now appears that there will be a reasonably orderly normalisation. If you are lucky enough to be booked there for the New Year celebrations a fortnight from now, marking the triumph of the revolution 55 years ago, you won't find a McDonald's or a Starbucks on every corner.
To see a lot of the island in the company of an expert guide, consider joining an escorted group tour to Cuba; Journey Latin America has a range on offer, with guaranteed departures approximately monthly until early December 2015.
What does it mean for British holidaymakers already booked to go to Cuba?
Anyone with a holiday planned is likely to be travelling within the next 12 months. And for them nothing much will change: the tourism ministry will see to it that contracts are honoured through the winter and into the summer season. Besides, while mad dogs and Englishmen are quite prepared to visit Caribbean islands in the hot, humid hurricane season, Americans tend not to, so they won't be booking by the million from June to November. But by December 2015, tourism assets will start to be sold to the highest bidder. That is likely to be the US, and Cuba may start to feel subtly different, as it welcomes millions of people from its nearest neighbour.
Can we look forward to two-centre holidays comprising Cuba and Florida?
It's a little-known reality that you already can: British passport holders can cheerfully fly on US-Cuba charter flights without a problem. But those short hops are ridiculously expensive, and it can be tricky organising an "open-jaw" ticket into Miami and out of Havana. Once air links are liberalised (and cheaper), a combination of Delta and its partner Virgin Atlantic will happily get you around. Better still will be the restoration of a car-ferry link from Key West in Florida to Havana, raising the amazing possibility of a two-country fly-drive.
What will the effect be on the rest of the Caribbean?
Profound. The US-Cuba rapprochement has been the moment that Caribbean islands from Aruba to Jamaica has been dreading. They rely upon a steady stream of US visitors, whether flying in or calling in on cruises. Many of those visitors will switch to Cuba, leaving the other islands with capacity that needs filling – which may only be achieved by cutting prices for Europeans, especially Brits.
How will the cruise lines respond?
One aspect of the embargo that has proved reasonably effective has been to suppress the Cuban cruise business. By denying access to US ports for any vessel that had the temerity to visit Cuba, Washington made sure that superb ports such as Havana, Santiago and Cienfuegos featured on few itineraries. While President Obama did not specifically mention cruises, it seems likely that many Western Caribbean cruise programmes from the winter of 2015-16 onwards will be significantly amended to include Cuban ports. This will also have the benefit of providing extra accommodation until new, permanent infrastructure is created.
Thomson Cruise's excellent programme to Cuba remains in place, offering a two-night stay in Havana on the edge of the Old Town. There is still space available for departures on 29 and 30 December, if you want a New Year getaway.
Finally, can you disentangle the tricky business of travel insurance?
Certainly. At the moment, travel insurance for Cuba is weird in two ways. First, the country insists that every visitor has proof of health cover, and if you can't present it on arrival you have to buy a policy at the airport. Next, insurance underwritten by the US giant AIG is not valid for Cuba. This means, for example, if you buy a policy from Boots, it excludes travel to the island (as well as Afghanistan, Liberia and Somalia – which are several orders of magnitude more dangerous than Cuba). The president's announcement will eliminate that preposterous exclusion.
Simon Calder is co-author, with Emily Hatchwell, of the first independent guidebook to the island, Traveller's Survival Kit: Cuba – first published in 1990. For his latest stories see bit.ly/FlyDriveCuba and bit.ly/48Havana
Bron: Independent.co.uk