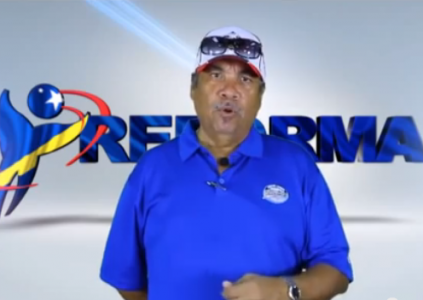 It is known that DEA agents infiltrate legit business in all sectors, to control businessmen with lucrative deals, as compensation for their participation in the lucrative Narco trafficking. Obviously F.d.c.G. is one of them. However he isn't personally involved in the actual smuggling of the drugs. But as an operative for DEA, he still controls the shipping on behalf of corrupt DEA agents. The smuggling and distribution is left to local drugs gangs organized in low class neighborhoods. These gangs are known to run their business very well and gang leaders become wealthy criminals.
http://www.justice.gov/dea/divisions/international/caribbean.shtml
Most of them become philanthropists and take care of their people in their neighborhoods and are called Godfathers. But they also hire dangerous soldiers to protect their business territory and to execute strategic actions, ordered by corrupt DAE agents. They also finance other crimes, such as arms smuggling and sales, prostitution, money laundering, kidnapping, armed assaults, and much more. More often than not, they become dangerous criminals and consequently a liability for DEA agents. Because of their illicit actions and criminal reputation, most of these gang leaders are either killed or extradited to the USA, to be prosecuted and jailed. Replacement is then a natural thing. There's always someone to take over.
https://www.youtube.com/watch?v=9ABo9HoLrQY
Such was the case with a successful drug smuggler from one of the most dangerous and notorious ghetto's in Curaçao, Buena Vista. E.J. aka "Chais" is considered to be a rich gang leader. However, as a result of a vicious, and extremely dangerous, gang war against the NLS (No Limit Soldiers), from Koraal Specht, E.J. lived the last years of his life in complete reclusion and surrounded by heavy armed bodyguards. He became a liability for the corrupt DEA agents, who obviously wanted him dead, before he got arrested. As a matter of fact a very high priced reward was issued for his assassination. Since then E.J. went into total reclusion and was not seen on the streets anymore.
It was obvious that E.J. was on the run and needed protection from his former "business" partners. He started to lobby with local politicians thinking they could somehow protect him. To no avail, E.J. recently was killed during a, Hollywood like, shootout at the Hato International Airport. Insiders say that the airport was the only place he could be located unarmed and without his bodyguards. He was brutally killed, in front of everybody, leaving the Airport terminal. There are reasons to believe that E.J. was not killed by his enemies from Koraal Specht.
https://www.youtube.com/watch?v=PQsnmpEIIS0
According to "insiders" E.J. was a main "contractor" for the corrupt DEA agents in control of an extensive logistical network that employs its own financial providers (very rich local businessmen), carefully maintained land and sea routes, corrupt officers at customs checkpoints and in police forces, etc. His lucrative drug smuggling business would have been impossible without the help of DEA, the secret agency with its own logistics and drugs smuggling network.
With the help of a political lobbyist and AIVD (Algemene Inlichtingen en Veiligheidsdienst) operative D.D., E.J came in contact with E.M. a criminal himself and number one Pueblo Soberano agitator. E.M. became the contact between Pueblo Soberano and the "Chais" Cartel. Dutch secret service with the help of DEA agents, followed the steps of E.J. and E.M closely. The first contact was made with former minister of Justice Elmer Wilsoe. A former Casino Boss and Lieutenant Governor of Curaçao, Wilsoe, is very good friend with DEA operative F.d.c. G. and CIA operative E.T.
Wilsoe was also accused by former Prime Minister Gerrit Schotte, te be a "snitch", who informed E.T. of everything discussed in the island's Council of Minister. Fact is that E.T. was always good informed and always ahead of any government actions against him. Schotte and Wiels, but also former minister of finance George Jamaloodin, did everything in their means to "fire" E.T. as the president the Central Bank of Curaçao and St. Maarten. They accused E.T. of serious corruptive acts and mismanagement. However E.T. survived all these attacks and is still president of the CBCS, and enjoying his revenge against his enemies.
https://www.youtube.com/watch?v=KlQRf9Hj7Ic
Fact of the matter is that all of E.T.'s enemies have been taken care of. Starting with his number one enemy, Helmin Wiels, who was brutally assassinated. Both Schotte and Jamaloodin, can be considered politically assassinated as well. Former Prime Minister Gerrit Schotte was arrested, together with his partner C.v.d.D., and declared suspect in an alleged money laundering case. While former Minister of Finance George Jamaloodin, was arrested in the "Maximus" case, accused of being one of the intellectual authors, behind the assassination of Helmin Wiels. Both were released, before an order for detention was issued, due to insufficient evidence by the Prosecutors Office. However both are still considered suspects and under investigation. A status they would have to live with it for years to come.
(TO BE CONTINUED)
Opinion by Jorge Sulbaran
Lees hier meer van Reforma en MFK politicus Jorge 'Palu Djo' Sulbaran