UN says 2.3 million people have left the country since 2015, but those
without a passport are unable to escape | Mariana Zuniga
After a year struggling to make ends meet under Venezuela's crushing hyperinflation, Jennyfer and her boyfriend decided to flee the country. Everything was ready, except a small but important detail: Jennyfer's passport.
It is now five months since Jennyfer Avero applied for her travel document. But, until today, the 23-year-old craftswoman from Caracas hasn't anything about the state of her request.
Last month, her boyfriend Javier left for Ecuador, becoming part of one of the biggest exoduses in Latin American history. And in the meantime, Jennyfer continues to wait, hoping she will join him soon.
"I have no alternative," she says. "I wouldn't like to leave without a passport."
Venezuela's intensifying economic and political crisis has pushed hundreds of thousands to flee the country. They are in search of food, security, medicine and jobs.
But not everyone that makes the decision to leave has a valid passport. Venezuelans face multiple difficulties when trying to obtain this document. Some people can wait months, or even years, to get it. The process can be complicated, expensive and sometimes illegal.
Day after day crowds queue up outside the headquarters of the passport agency, known as Saime, in Caracas.
Saime has more than 200 offices nationwide, however many people come to the headquarters in Caracas hoping to get a passport. Here the possibilities are greater, users say.
Everyone is here – women, children, couples and elderly people. Some arrived before dawn; others, those who came from afar, spent the night here. Much of them share the desire to leave the country for good.
"This is the fourth time in three months I've come here," says Jose Di Marco, while standing in line.
Di Marco travelled 713km by bus from the town of Puerto Ordaz to Caracas. For the second consecutive day, the 20-year-old student has been sleeping at a nearby square to avoid losing his spot in the queue.
He should be travelling to Ecuador at the end of the month. He has been awarded a full scholarship to study performing arts, but if he doesn't arrive in time it will be taken away.
Without answers about the status of his application, which he has been processing since 2016, he's starting to feel desperate.
"I've thought about leaving without a passport, I can't waste more time," he says.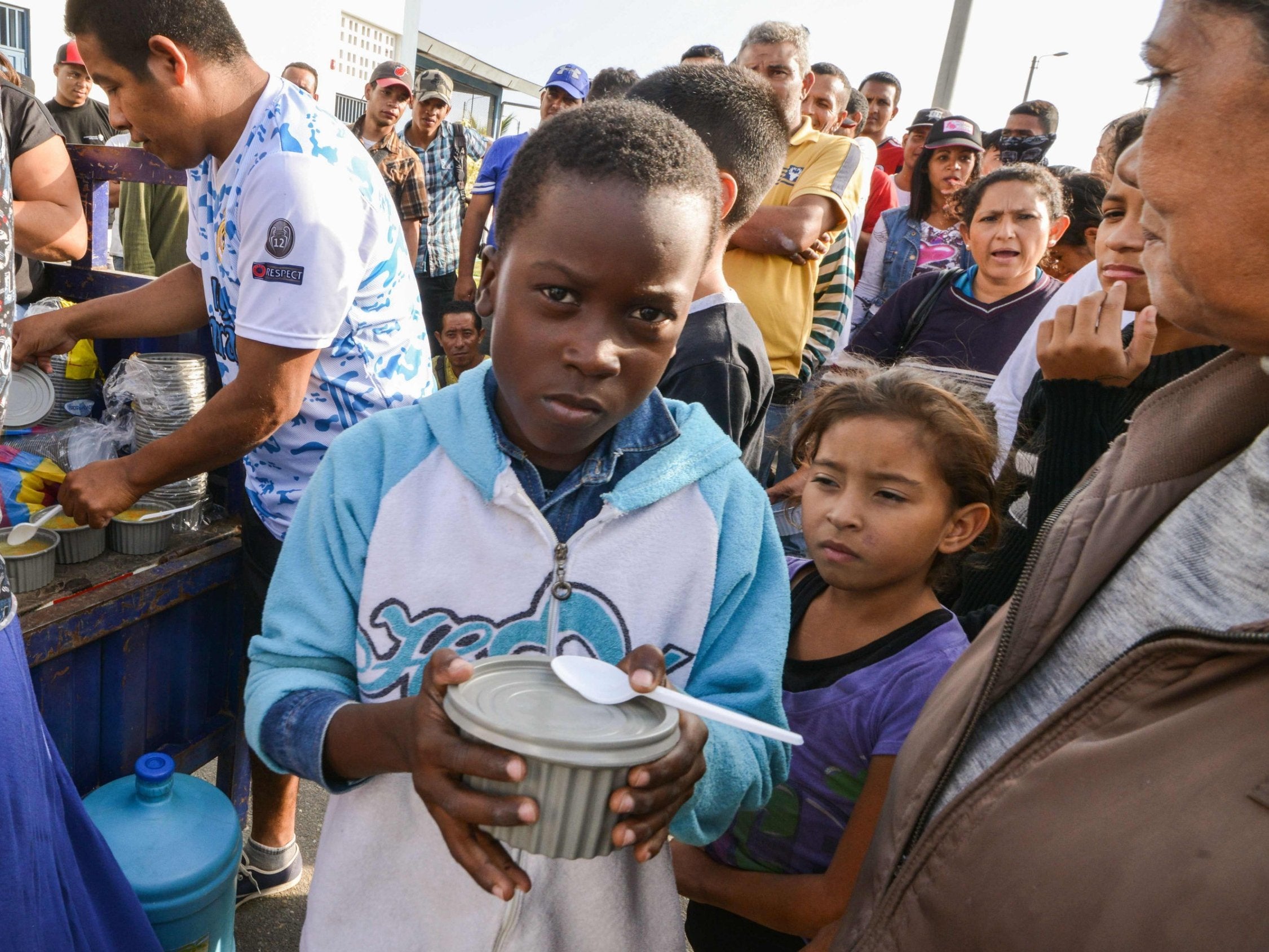 The passport system began to fail two years ago. In theory, the process is easy. It's done through a web page in which the citizen requests an appointment, attends the appointment and is given the passport within a couple of weeks. But often, users say, the website crashes and the appointment gets cancelled or people's data just disappears from the system.
"It's as if I had never attended the appointment," says Delia Cabral, 52, whose data disappeared from the website after she went to her meeting.
The accountant has been waiting since May for her passport. Her daughter is waiting for her in Spain.
Experts say that Caracas's telecommunication infrastructure is one of the weakest in the region, so it is not surprising that high-traffic websites collapse.
In July, a new head of Saime was named. He promised a complete renovation of the website, as well as a profound restructuring of the organisation. However, the system still seems to be failing.
The passport agency has blamed shortages of materials, like paper and plastic, for the delays.
Venezuela has been suffering from shortages of food, medicines and other basic goods for many years now. The lack of passports is just one of them.
The legal price of a passport in Venezuela is 18 bolivars, or $0.30 (£0.23) at the black market exchange rate. However, tired of waiting, some Venezuelans choose to pay for the service of officials who can speed up the process for $1,000, at the very least. A prohibitively expensive amount for most Venezuelans,given the monthly minimum wage is $18.
This is an illegal practice for which several Saime officials have been arrested in recent months. The institution also blames those members of the "mafia" inside the passport agency for the delays.
The economic and social crisis has become so unbearable that hundreds of thousands of Venezuelans consider escaping the country to be their only option – a feeling that has only increased over the past few months.
President Nicolas Maduro denies the existence of a migration crisis and blames his critics for inflating the numbers.
The government typically does not publish data, but the UN estimates that 2.3 million Venezuelans have fled the country since 2015, especially to neighbouring countries like Colombia, Ecuador, Peru and Brazil. In August, the UN warned the migration exodus was reaching a "crisis moment", akin to the situation in Mediterranean.
Last month, Ecuador and Peru tightened their migration controls for Venezuelans, requiring them to show valid passports at the border. That decision left many Venezuelans who had been travelling without passports in limbo.
The measure was later overturned. Over recent weeks, 11 Latin American countries agreed to allow Venezuelans to enter their countries even if their passports have expired.
While this is a relief for those who haven't been able to renew their travel documents, nothing changes for those who have never had a passport, like Jennyfer.
"It makes no difference for me," she says "I'm still stuck in here."
Bron: TheIndependent