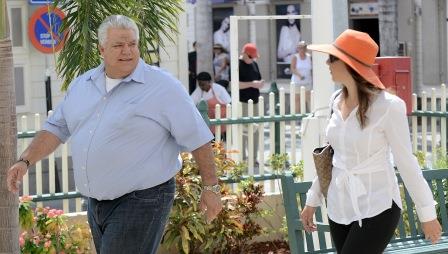 PHILIPSBURG–In a brief preliminary ruling on proceedings concerning a breach in the investigation of the criminal cases against former Minister Maria Buncamper-Molanus (47), her husband Claudius Buncamper (52), notary F.E.G. (71) and co-suspects I.A.H. (46) and T.O.W. (69), it was decided that the breach was serious, but not enough to count the Prosecutor's charge of money-laundering inadmissible, Judge Peter Lemaire relayed on Wednesday.
One week before, Prosecutor Dounia Benammar suggested the Judge declare the Prosecution's case against the Buncampers inadmissible in relation to a second summons concerning a money-laundering offence which had been added in June, but not the case in its entirety.
Longstanding charges against the group entail involvement in fraud, forgery of documents and participation in a criminal organisation, relating to a transaction regarding a piece of land that had been given on long lease.
However, Benammar said last week that the same should not apply to suspect I.A.H. for the same charge, as the violation does not affect him. At the same time it was deliberated between the attorneys, the other attorney being Geert Hatzmann representing I.A.H., whether it was unfair to throw out the case against one but not the other, or to keep the summons separate or not.
A hearing continuation had been expected to last two days last week, but a short session of about two hours took place instead, focused largely on a breach in the investigation concerning the lawyer-client confidentiality between the Buncampers and their lawyer Jairo Bloem.
This had been deemed the most urgent point to deal with and was presented last week by current Prosecutor Benammar, who replaced former case Prosecutor Gonda van der Wulp after she took pictures of what turned out to be information that should have been confidential, including a letter to Bloem, during a search of the Buncampers' home.
Current case prosecutor Benammar, in her capacity as research-prosecutor at the time, said that while the pictures had been sent to her as an attachment, she had stopped reading immediately when she realised that it possibly contained the confidential information. A longer summary of the issue was described in last Thursday's edition of The Daily Herald, in "Buncamper case hearing centres on search-breach."
Judge Peter Lemaire also decided that Bloem would be allowed to hear a number of witnesses, which he had described as crucial as part of his preliminary defence. Bloem was late to the Courthouse and missed the announcement, but later told this newspaper that while he was happy about this fact, he had insisted they be heard before the ruling concerning the breach.
He also said the short time slot was not enough to allow for a regular presentation of preliminary defence. Until last week, he had thought he still would be able to include witnesses within the two-day session.
He said cross-examining witnesses such as Van der Wulp and the Buncampers' son who was present during the second, most recent, house search, along with two police officers, would shine light on who had taken what pictures and who had seen what information, amongst other things.
He also said he lamented that there was yet another delay, as the ruling centred on one breach while there was a longer list of "irregularities" than those surrounding the house search.
Some of the other irregularities Bloem listed include having to wonder whether investigating officers even had been sworn in; important witness statements as reported by one officer allegedly not lining up with what the witnesses said; Van der Wulp reportedly stating that there was no more need for investigations, but then cross-examining a witness on her own and in doing so excluding the attorneys; and the prosecution requesting indictments more than once, which he said had caused more undue delay.
January will make one year since the case has been in court without a material hearing, he pointed out. The case continues January 13.
All suspects were present on Wednesday, including Notary G., who along with Benammar joined by videoconference in Curaçao.
Initial charges
The case against the Buncampers came to light in December 2010 when documents surfaced in which it was revealed that they had sold the economic rights to a plot of land they held on long lease to a company named Eco Green N.V., against payment of US $3,000,000.
Buncamper-Molanus had obtained the right of long lease of the Government property against annual payment of approximately $10,000 in April 2008, while she was a member of the then-Executive Council. Three days after Eco Green was established, with figurehead T.O.W. appointed as company director, the Buncampers sold the economic rights to the land to this company.
T.O.W. was a former Department of Public Works employee. Claudius Buncamper was head of this department for years.
The Buncampers also are charged with tax evasion in relation to payment of profit tax on behalf of Eco Green over the years 2009, 2010 and 2011, and failure to file income tax correctly during 2009 and 2010.
They were charged with forgery of several documents, including a commercial lease agreement between Eco Green and St. Maarten Building Supplies N.V., mortgage documents and a deed concerning the right of long lease.
The Prosecutor's Office holds all suspects, with the Buncampers leading them, as members of a criminal organisation involved with forgery, tax evasion and the destruction of evidence, it was stated in the indictments.
Bron: DailyHerald