Foreign Affairs should not underestimate this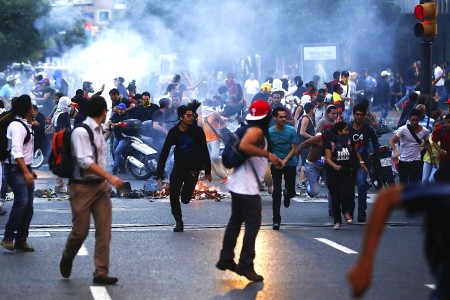 THE HAGUE, WILLEMSTAD – In the Netherlands, we look with great concern at the appalling consequences of the boat migration to the EU's southern borders. Rightly so, but only 30 kilometers from our border threatens an escalation of a potential military dimension.
A threat which can also cause boat migration. Only separated by a narrow strip of Caribbean, Venezuela, the largest land adjacent to our kingdom, is turning into a ticking time bomb that could explode at any moment in our face.
Problems worsened seriously
The problems in this South American socialist "utopia" are not new, but in the past year they have deteriorated. After his death in 2013, the former president Hugo Chavez left behind a country which dangles from the edge of the abyss. His "socialism in the 21st century" led in practice to appalling corruption and mismanagement and the Venezuelan economy has completely eroded. Venezuela has the largest oil reserves in the world and half of its national income is dependent on it. However, the nationalized oil sector has been neglected altogether. Also, there is a shortage of food, a skyrocketing inflation finds empty shelves in supermarkets. Everyday foods are priceless for ordinary citizens. Under current President Maduro an explosive mix of social unrest and economic chaos is being created. Maduro reacts with security forces in the interior and muscles language toward other countries.
President Maduro gets cornered
Our Kingdom has, so far, successfully calmed down the relationship with Venezuela as a neighbor to the adjacent islands Aruba, Bonaire and Curacao. An 'uneasy' neighbor of which, was the rightful analysis in The Hague, the revolutionary rhetoric could be taken for granted as long as it remained stable. And Venezuela was relatively stable: high oil revenues yielded a long cloak that the deplorable state of the economy could be glossed over. That changed acute in 2014 when oil prices suddenly halved and the Venezuelan regime was not able to balance its budget. The enormous burden of his socialist agenda, meant to placate the people, cornered Maduro financially and in terms of domestic prestige.
Streams of refugees
However, an analysis requested by the VVD on Venezuela shows that the Foreign Ministry sees no cause for great change. The danger of underestimating is lurking. The combination of empty supermarkets, a series of power cuts and rampant crime drives many Venezuelans namely to despair. And while the country implodes is can also get refugees underway. Brazil, Guyana and Colombia closed their borders, but Curaçao, Bonaire and Aruba are within two hours by boat. And even though the ABC islands will not be the South American Lampedusa, the short distance and the many family ties make boat migration not unlikely. Especially now that the Prime Minister of Aruba, Mike Eman, has indicated that Aruba will be tolerant and welcoming to all refugees. Migrants who managed to reach Curaçao or Aruba can then use these islands as a springboard to the Netherlands. Those who reach Bonaire are also, constitutionally seen, in the Netherlands.
Foreign enemies
Meanwhile, it should also be taken into account the possibility that Maduro will launch foreign adventures to divert the attention of all his internal problems. Creating foreign enemy images to mobilize the people always do well in Venezuela. Maduro has already accused America of hitsing protesters and planning a coup against him. The President then received special powers from parliament to save the country from imperialist and fascist threats. Venezuela would then prepare itself for all "possible scenarios".
Threatening language has not disappeared
Also at the time of President Chávez, threatening language towards the Netherlands was not shunned. As Chávez claimed that Aruba, Bonaire and Curaçao were part of Venezuela. That claim was supported by a stray Venezuelan military aircraft that flew over the islands without permission. Chavez also accused the Netherlands of supporting United States military plans against Venezuela by providing the US military access to the Leeward Islands. Tensions were so high that the Netherlands had great concerns in 2005 about a possible military attack by Venezuela on the Caribbean part of the Kingdom.
That threat has not disappeared with President Chávez. His much less charismatic successor Maduro, after a Venezuelan diplomat was arrested in Aruba, deliberately ignited a diplomatic row which was narrowly extinguished by The Hague. Not only did Venezuelan naval vessels suddenly approach Aruba and Curaçao, but in a TV speech in February this year Maduro suggested their own defensive zone so that it now also includes in the Leeward Islands and St. Maarten. The president claimed thus unlawful the privilege to defend the airspace of our Kingdom. Earlier this year a private plane was brought down by the Venezuelan Air Force over international waters. The plane then came right down near the Aruban coast.
Unstable, ticking time bomb
Signals from the past and present compel the Netherlands to take into account an unstable ticking time bomb just a dozen kilometers from our direct external border. Netherlands must be vigilant regarding the increasing threat from Venezuela. Keep looking away is dangerous. What will happen to the islands if there is an escalation will inevitably also become a Dutch problem.
By VVD MPs Han ten Broeke and Frank van Kappen.
Source: ThePostOnline
Bron: CuracaoChronicle